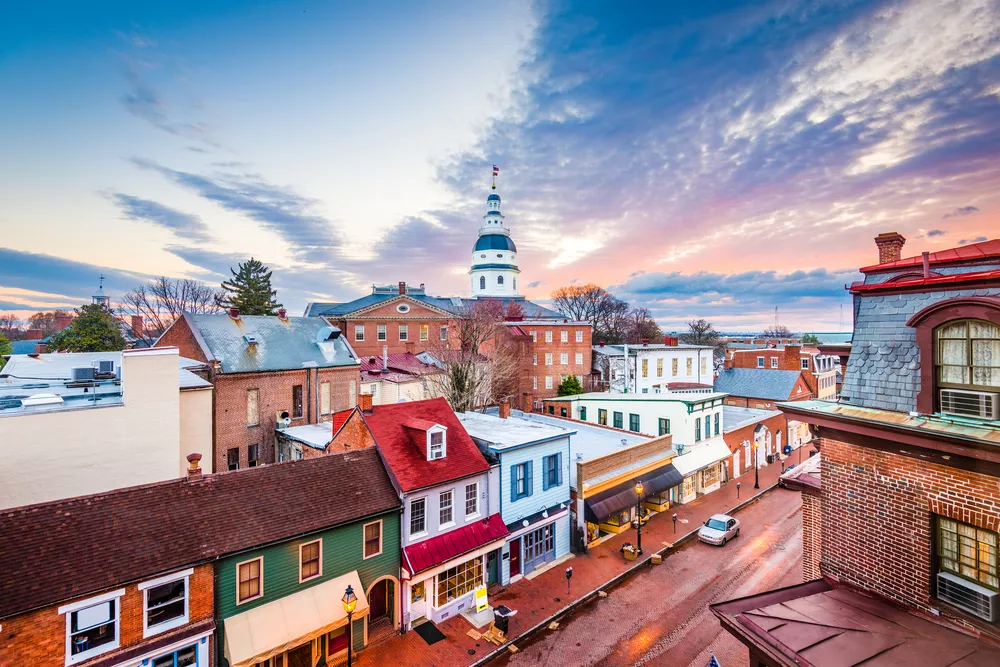 During its early history as a colonial capital city, Annapolis was considered the "Athens of America," for its cultural and intellectual offerings, as well as its thriving social life. This small port town has gone by multiple names since it was founded, from the Puritan name "Providence" to "Anne Arundel's Towne," after the wife of land owner, Lord Baltimore. In 1649, Royal Governor, Sir Francis Nicholson, decided to move the colony's capital city and, in doing so, give the new capital a name change. He settled on "Annapolis," after the heir apparent to the British throne, Princess Anne. To this day, Anne's royal badge, a crown on a Scottish thistle and Tudor rose, is depicted on the city flag.
Best known today as home to the US Naval Academy, Annapolis played an essential role in early American history. Only a 20-minute drive from The Beacon, Annapolis is the perfect place to step back into the past or enjoy modern offerings. Check out the list below for some of our favorite places to visit!
Historic Annapolis
Annapolis is a cozy, walkable city with plenty of attractions, shops, and restaurants to explore. One of the first cities to receive the National Historic Landmark District status, the vibrant Annapolis Historic District is bursting with ways to step into the past. This part of the city is centered on the spiritual and government hubs, with streets radiating out from there. Check out this unique city planning design as you explore.
The Maryland State House's spectacular wooden dome is one of the most beautiful in America and also one of the oldest. This building played an important role in post-Revolutionary America. Explore the halls that saw George Washington resign from leading the Continental Army, housed the new nation's government from 1783 to 1784, and hosted the Annapolis Convention, a precursor to the Constitutional Convention.
From the State House, take a short walk down to the harbor to visit the Naval Academy Museum and Annapolis Maritime Museum & Park. One of Annapolis's most unique destinations, the Naval Academy Museum features two floors of exhibits focused on the history of wartime seafaring, the development of the U.S. Navy, and more. Experience the stories of men and women who served their country at sea through artifacts and multimedia displays. Focused on Annapolis' rich maritime heritage and the ecology of the Chesapeake Bay, The Maritime Museum teaches visitors of all ages through engaging, hands-on exhibits, programs, and events.
As the State of Maryland's official museum of African American heritage, the Banneker-Douglass Museum offers a variety of events, exhibits, and educational programs to build appreciation of African American history and cultural. Their permenant exhibition focuses on African American nation-builders, community leaders, activists, and other prominent figures who shaped Maryland and the nation as we know it today. Be sure to check their website to see upcoming temporary exhibitions and events.
Want to explore the city with a local guide? Consider booking a tour! If you'd like to rest your feet and still see as much as possible, the Towne Transport Historic Annapolis Trolley Tour, starting at the Annapolis Visitor's Center, will take you past the most popular historic sites and along the waterfront. Another fun tour option is the Tours and Crawls Ghost Tour! During this leisurely stroll through historic downtown, you'll be treated to a spooky journey through the darker side of the city's history.
If you're looking for a sweet treat while exploring the Historic District, check out Annapolis Ice Cream Company on Main Street, one of four Always Ice Cream Company locations. Voted Best Ice Cream in Annapolis and Central Maryland in Best of Annapolis 2022, this Maryland small business offers homemade ice cream with unique, seasonal flavors. You can't go wrong with any flavor, but a staff favoite is Cookie Moster!
A quick drive into the countryside will also reveal a number of great destinations to both relax and learn. One of our favorites is Historic London Town & Gardens! From living history demonstrations to thriving gardens, this beautiful destination is a treat for the senses, offering a variety of learning opportunities and events.
Looking for more to see, do, and taste? Check out visitannapolis.org or flip through the official Annapolis Visitor's Guide.
We hope you enjoy your Annapolis staycation!