Father's Day is coming up and it's the perfect time to get out and grill. Did you know that we have grills and picnic tables for residents to use here at The Beacon? The grills, located adjacent to the pool, are open all year round, so they're ready whenever you'd like to enjoy an outdoor meal and quality time.
Sometimes, though, it's difficult to grill outdoors. It can be too hot, raining, or perhaps you want less clean-up. This Father's Day, maybe the father figures in your life would appreciate an easy way to prepare a delicious barbecue without leaving their own kitchen? If you're still looking for something to treat your loved ones, an indoor grill pan is a great option for a gift. They work incredibly well on gas ranges like the ones in our kitchens.
There are several options on the market and chefs suggest a heavy, thick skillet with deep "ribs" to give you the grilled look on your burgers, vegetables, etc. Click here to check out some Food Network recommendations on the best grill pans.
Now that you have the option to grill indoor or outdoor, it's time to cook something delicious! Check-out the recipes below to get started.
We hope you and the father figures in your life have an amazing Father's Day!
Grilled Vegetable Skewers
Ingredients:
1

yellow squash

1

zucchini

8 ounces cremini mushrooms,

stemmed

1

small red onion

1

red bell pepper

1

green bell pepper

1 ear fresh corn,

cut into 1-inch rounds

Extra virgin olive oil, for drizzling

Sea salt and freshly ground black pepper

Tzatziki, pesto, or Greek dressing for drizzling/serving
Instructions:
Heat a grill to medium-high and spray with nonstick cooking spray. Cut the vegetables into similar sized chunks and thread onto 4 skewers. Drizzle with olive oil and season with salt and pepper. Grill the skewers for 8 minutes per side or until the vegetables are tender and lightly charred. Remove from the grill, season to taste, and serve with desired sauce or dressing.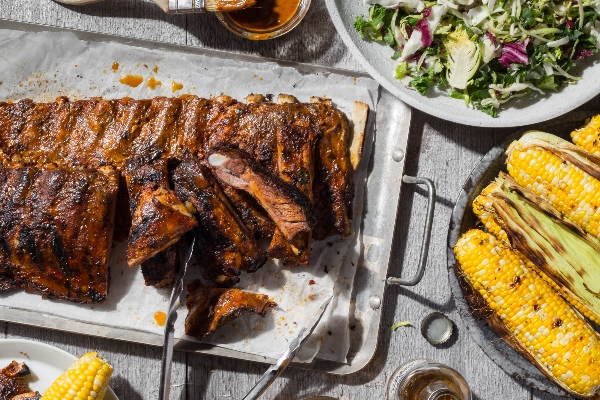 Classic Grilled Ribs
Ingredients:
2 pounds of pork ribs

1/3 cup paprika

1/8 cup ground pepper

2 spoons of salt

3 spoons of sugar cane

1 spoon powder garlic

1 spoon powder onion

1 spoon of cayenne powder

1 spoon of ground cumin

Hickory sauce or Olive oil
Instructions:
First make a bunch of little holes with the tip of your knife along the pork ribs to allow the spices to soak-in while cooking and increase the flavor. Next, in a bowl mix all the spices until well-blended, and then use the hickory sauce or olive oil to rub the seasoning into the ribs; make sure to apply the mixture to the front and back. Set it on the hot grill and cook to your preference.